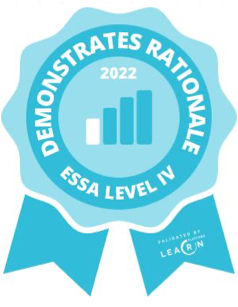 Tutor.com Earns Level IV Certification for Alignment with Every Student Succeeds Act (ESSA) Evidence Standards
Logic Model Meets ESSA Validation Rubric Criteria
NEW YORK, Jan. 19, 2023 /— Tutor.com, one of the world's largest and most innovative online tutoring organizations, announced today that it has earned Level IV certification for its alignment with Every Student Succeeds Act (ESSA) standards, as validated by independent third-party LearnPlatform researchers.
According to the ESSA Tiers of Evidence, the Level IV certification indicates a "well-defined logic model based on rigorous research." All reviewers agreed that the logic model was well-defined, informed by research, and that additional plans to examine the intervention for evidence were available. Further study is being done to demonstrate alignment with ESSA Level III or higher standards.
"We hear from thousands of students each day that Tutor.com is helping them improve their grades, complete homework assignments, and be more confident about their schoolwork," said Sandi White, Senior Vice President, Institutional partnerships at Tutor.com/The Princeton Review®. "We are thrilled to receive Level IV certification, which is a further testament to the impact of our 24/7 tutoring and test prep."
To determine Tutor.com's evidence rating, LearnPlatform used an ESSA Validation Rubric with five factors derived from ESSA (regulatory and non-regulatory guidance), What Works Clearinghouse (WWC) standards, Standards for Excellence in Education Research (SEER) and Education Department General Administrative Regulations (EDGAR): sample, methodology, baseline equivalence, implementation and findings, and other. Two trained reviewers independently applied the rubric to the logic model, and there was excellent agreement between raters (Cohen's Kappa = 1.00).
Incorporated in 2000, Tutor.com has long been an innovator in education technology. The company, an affiliate of The Princeton Review, has delivered nearly 24 million one-to-one tutoring sessions to date, and has met unprecedented demand for its services since the outset of the pandemic.
In fall 2022, the company launched its award-winning academic support platform, Learner Engagements Online™ (LEO), which centralizes the scheduling, delivery, and analytics for a wide range of academic support services.
Tutor.com conducts ongoing research, efficacy, and case studies with institutional partners. The company has published LearnPlatform's report on the Tutor.com logic model and plans to make further studies accessible on its website.
About Tutor.com
Since its incorporation in 2000, Tutor.com has delivered more than 23 million one-to-one online tutoring and homework help sessions to students. The company's more than 3,000 vetted and qualified tutors provide learning assistance that is available 24/7 in a wide variety of subjects. The company's mission is to instill hope, advance equity, and catalyze achievement in schools and communities. Tutor.com powers tutoring and homework help programs for the U.S. Department of Defense, Coast Guard Mutual Assistance Program, colleges and universities, K–12 school districts, state and local libraries, and companies offering employee benefit programs. Headquartered in New York City, Tutor.com is an affiliate of The Princeton Review, an education services company not affiliated with Princeton University. Follow Tutor.com on Twitter @tutordotcom, Facebook @TutorDotCom, and LinkedIn @Tutor.com.
CONTACT:
Suzanne Podhurst, PhD, VP, Institutional Marketing and Corporate Communications, Tutor.com and The Princeton Review, suzanne.podhurst@tutor.com