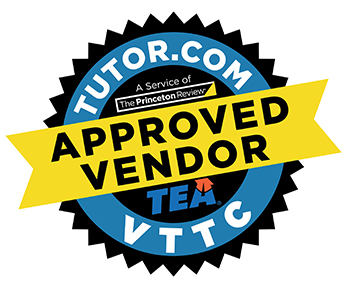 Tutor.com Is Approved by Texas Education Agency as High-Impact Tutoring Provider
Vetted Texas Tutor Corps Initiative Aimed at Accelerating Learning Statewide
NEW YORK, Feb. 3, 2023 /— Tutor.com, one of the world's largest and most innovative online tutoring organizations, announced that it has been approved as a tutoring provider by the Texas Education Agency (TEA).
According to the agency, TEA-approved providers have been "vetted to ensure they meet the research-based components of high-impact tutoring." Tutor.com's ESSA Level IV certification further demonstrates the organization's commitment to delivering effective instructional support for students.
"We're thrilled that Tutor.com has been recognized as a solution to accelerate student learning statewide," said Sandi White, Senior Vice President, Institutional Partnerships, Tutor.com/The Princeton Review. "We are honored to help K–12 schools and districts across Texas provide equitable, impactful academic support at scale."
As a TEA-approved tutoring provider, Tutor.com joins the Vetted Texas Tutor Corps (VTTC), having been recognized by the state as an organization that can support the implementation of high-impact tutoring and assist districts in meeting the statutory requirements for supplemental accelerated instruction, as outlined in House Bill 4545.
Incorporated in 2000, Tutor.com has delivered nearly 24 million one-to-one tutoring sessions to date, with a long track record of helping schools advance student achievement. The company provides 24/7 online, on-demand access to tutoring, homework help, and test prep, with offerings spanning more than 200 subjects. Its rigorously vetted expert tutors also provide bilingual tutoring as well as drop-off review services. Through the Tutor.com platform, students also gain access to gold-standard test prep from the organization's affiliate company The Princeton Review®.
The company is dedicated to providing support that is as effective as it is encouraging. As one Texas student wrote in a post-session survey, "It is very nice working with all the tutors, they inspire me to keep going!"
Tutor.com is available to provide high-impact tutoring for districts across the state of Texas. To learn more, district leaders and teachers are encouraged to register for one of the company's upcoming webinars:
Tuesday, February 7, 2023 at 12 noon CST
Get to know TEA-approved Tutor.com, featuring Alief ISD
Register for the webinar


Tuesday, February 21, 2023 at 12 noon CST
Get to know TEA-approved Tutor.com, featuring Kennendale ISD
Register for the webinar
About Tutor.com
Since its incorporation in 2000, Tutor.com has delivered more than 23 million one-to-one online tutoring and homework help sessions to students. The company's more than 3,000 vetted and qualified tutors provide learning assistance that is available 24/7 in a wide variety of subjects. The company's mission is to instill hope, advance equity, and catalyze achievement in schools and communities. Tutor.com powers tutoring and homework help programs for the U.S. Department of Defense, Coast Guard Mutual Assistance Program, colleges and universities, K–12 school districts, state and local libraries, and companies offering employee benefit programs. Headquartered in New York City, Tutor.com is an affiliate of The Princeton Review, an education services company not affiliated with Princeton University. Follow Tutor.com on Twitter @tutordotcom, Facebook @TutorDotCom, and LinkedIn @Tutor.com.
CONTACT:
Suzanne Podhurst, PhD, VP, Institutional Marketing and Corporate Communications, Tutor.com and The Princeton Review, suzanne.podhurst@tutor.com