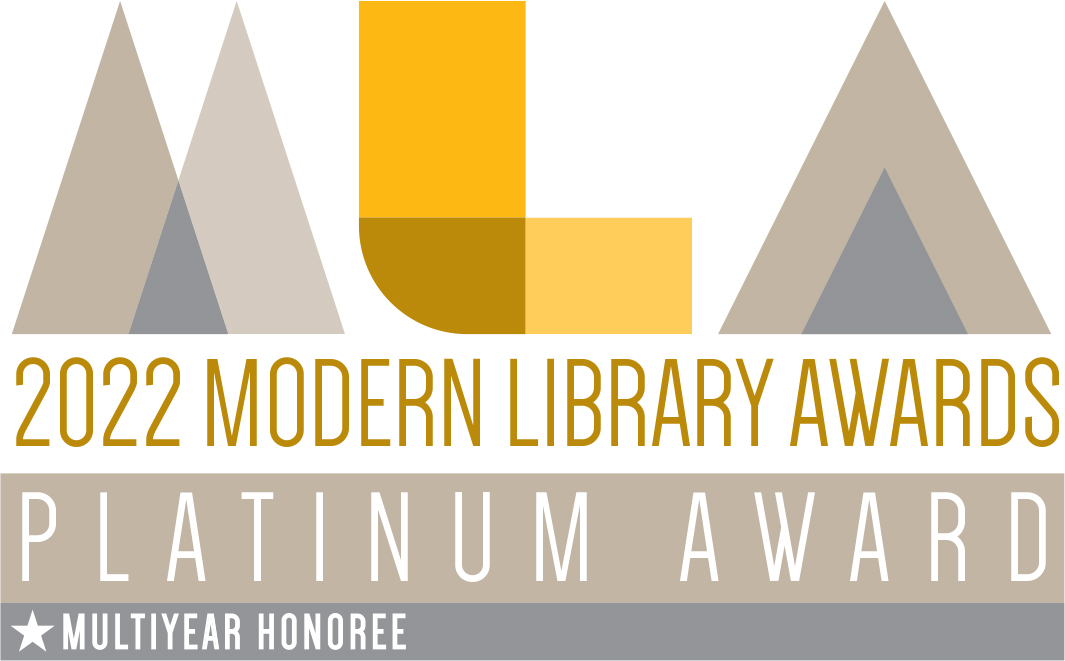 Tutor.com Receives Platinum in 2022 Modern Library Awards from LibraryWorks
Company Designated Multiyear Honoree
NEW YORK, Jan. 14, 2022 /— Tutor.com, one of the world's largest online tutoring services, is pleased to report that its Learning Suite for Libraries has received a Platinum Award in LibraryWorks' eighth annual Modern Library Awards (MLAs). The MLAs were created to recognize the top products and services in the library industry in a truly unbiased format. Products and services were submitted in the fall using a simple application, and then were posted on a private site with an enhanced description and attendant materials. These products were batched into small groups and sent to the LibraryWorks database of more than 80,000 librarians at public, K–12, academic, and special libraries. Only customers with experience with these products/services in their facilities were permitted to judge the products/services, resulting in an unbiased score.
Each judge scored the product on a numeric basis from 1–10 on a series of questions regarding functionality, value, customer service, and other categories. Honored for its Learning Suite for Libraries, Tutor.com received the highest possible distinction of Platinum in this year's awards program.
"We are thrilled to be a multiyear Platinum awardee," said Sandi White, SVP, Institutional, Tutor.com. "Every student deserves a personal tutor, and we are honored to partner with thousands of libraries across the country to provide no-cost academic tutoring and job support. We are grateful to the librarians who served as judges for their time and unbiased consideration of the nominated products and services."
Tutor.com provides live, on-demand tutoring services that are available for more than 67 million library patrons across more than 2,700 library locations. The company helps learners in K–12, college, graduate school, and continuing education pursuits, as well as jobseekers seeking career support. With their library cards, patrons can access academic and job support through Tutor.com, including:
1-to-1 online, on-demand tutoring with fully vetted expert tutors and career coaches in 100 subjects, including bilingual offerings
Drop-off writing review services for essays, resumes, and cover letters
Test-prep resources from The Princeton Review®, along with practice quizzes, worksheets, and other learning tools
Tutor.com's library partners receive dedicated client support, and their patrons gain access to numerous free patron webinars, including the company's popular Study Skills series.
Jenny Newman, publisher and MLA program manager, said, "It's hardly a surprise that Tutor.com scored so well. They've been at the forefront of the industry since their company entered the market in 2000."
Tutor.com is a proud member of the American Library Association, Public Library Association, and Young Adult Library Services Association.
About Tutor.com
Since its incorporation in 2000, Tutor.com has delivered more than 21 million one-to-one online tutoring and homework help sessions to students. The company's more than 3,500 vetted and qualified tutors provide learning assistance that is available 24/7 in a wide variety of subjects. The company's mission is to instill hope, advance equity, and catalyze achievement in schools and communities. Tutor.com powers tutoring and homework help programs for the U.S. Department of Defense, Coast Guard Mutual Assistance Program, colleges and universities, K–12 school districts, state and local libraries, and companies offering employee benefit programs. Headquartered in New York City, Tutor.com is an affiliate of The Princeton Review, an education services company not affiliated with Princeton University. Follow Tutor.com on Twitter @tutordotcom, Facebook @TutorDotCom, and LinkedIn @Tutor.com.
About LibraryWorks
LibraryWorks helps administrators to make informed decisions about library technology, automation and software, collection development and management, facilities and furnishings, staffing, purchasing, and other areas that drive effective strategic planning and day-to-day operations. Our family of resources can enable you to identify best practices, monitor trends, evaluate new products and services, apply for grants and funding, post or find a job, and even enjoy some library humor.
About the Modern Library Awards Program
The Modern Library Awards (MLAs) is a review program designed to recognize elite products and services in the market which can help library management personnel enhance the quality-of-experience for the library user and increase the performance of their library systems.
CONTACT: Jeanne Krier, Publicist for Tutor.com and The Princeton Review, pressoffice@review.com; or Suzanne Podhurst, PhD, VP, Institutional Marketing and Corporate Communications, Tutor.com and The Princeton Review, suzanne.podhurst@tutor.com